Sykesville Veterinary Clinic, which has been in existence since 1995, was purchased in 2002 by Dr. Ellen Colwell. Dr. Colwell, previously the primary Veterinarian at Ellicott City Veterinary Clinic, built a large following of devoted clients, who came to appreciate and rely on her dedication to quality, compassion and personal care for her clients and their owners.
I entered this business because I feel tremendous love for animals, and I want to make a difference that enhances the human-pet experience.
I strive to be different, and owning my own clinic allows me to introduce many services so lacking in today's impersonal, fast-paced business environment. Top-quality veterinary care is essential, but total, lasting care also includes attending to the education and needs of owners. It's the little things that make such a big difference. During each appointment, I devote a full 20 minutes to the owner, to make sure they understand and are comfortable with all treatments and options. They are entrusting their loved companions to my care, and they deserve my best.
– The diminutive Dr. Colwell (who claims to be a full 5 feet tall)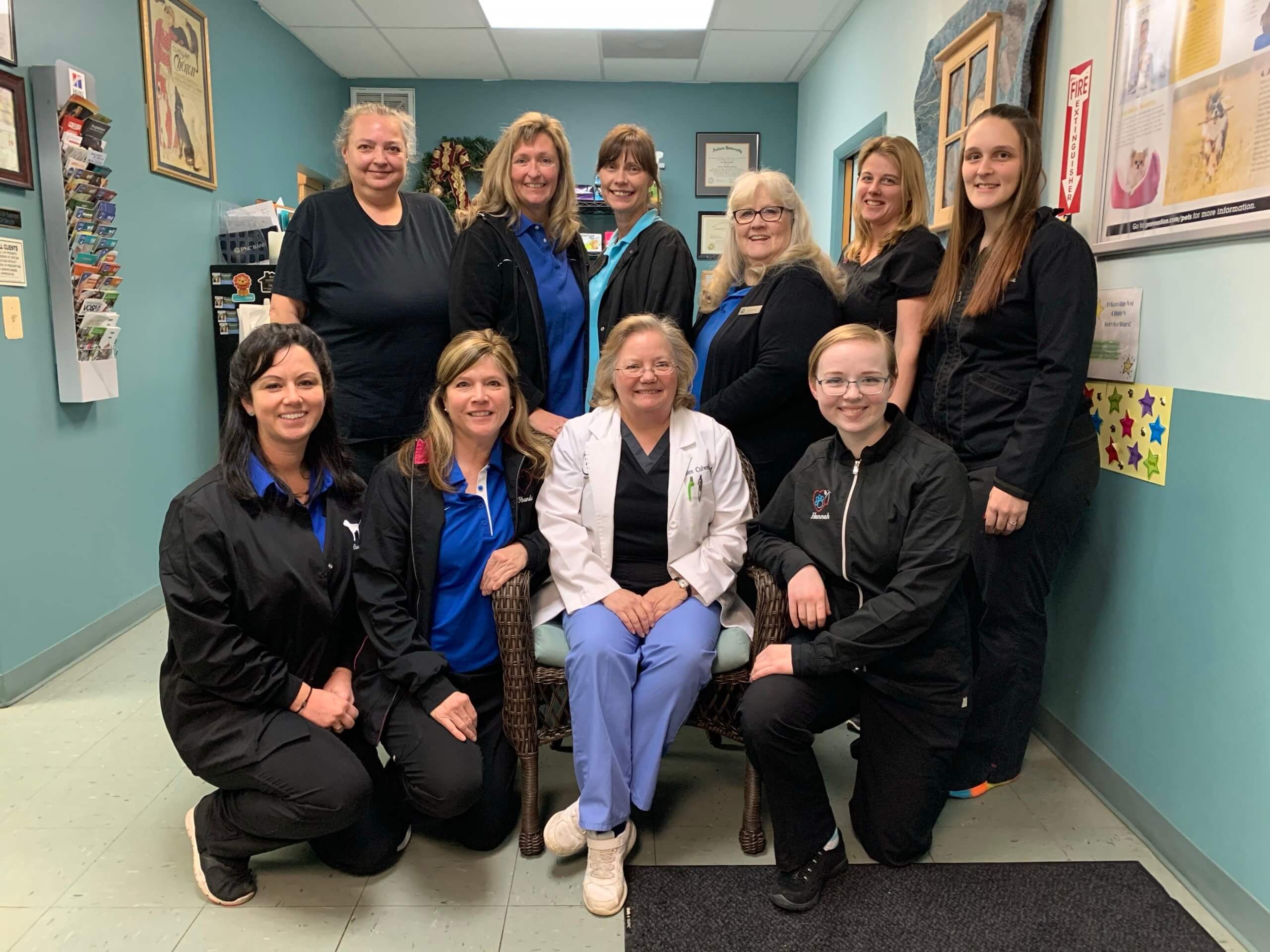 Dr. Colwell is a 1989 graduate of Auburn University. Dr. Colwell believes in offering top-quality, personal care to all her patients and clients.
If recent history continues to serve as a guide, clients who have experienced Dr. Colwell's professionalism, experience and caring will gladly remain dedicated, long-standing customers. As such, Sykesville Veterinary Clinic is pleased to extend a $10 discount to all first-time clients. "We know that most people who try us will like us and stay."
Sykesville Veterinary Clinic is located at 20-C Liberty Road in Sykesville, and is conveniently located off MD Route 26 and Kleemill Road at the Abar Center, adjacent to the new Carroll County High School.
The facilities of Sykesville Veterinary Clinic were newly renovated and expanded in 2002 to accommodate an ever-expanding list of innovations and services.
Appointments
Our appointment book is computerized, which allows us to efficiently make appointments for you and your pet. Our receptionists and team will attempt to accommodate all requests to the best of our ability.
Emergencies are accepted anytime our clinic is open. If you feel you have an emergency with your pet, please call us or come to the hospital immediately. If possible it is best to call before coming in so that a staff member can advise you on your particular emergency.
Payments
Sykesville Veterinary Clinic accepts payment via cash, check, MasterCard or Visa. So that we can continue to provide you high-quality service using the best medical technologies, we request that payment be made at the time services are rendered.
We provide estimates for all surgeries and hospitalizations. If you have not received an estimate, you are welcome to request one at any time for your expected charges.